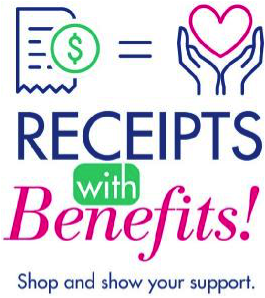 Hillside Centre 2020 Fundraising Program
November 27 – December 20, 2020
THANK YOU TO ALL THOSE THAT SUPPORTED THE 'RECEIPTS WITH BENEFITS' CAMPAIGN!
HERE ARE THE FINAL RESULTS:
CNIB Foundation BC & Yukon
Flamenco de la Isla Society
Lake Hill Elementary School
MOVE Adapted Rehabilitation Society
Victoria Chinatown Lioness Club
Cat's Cradle Animal Rescue
Lambrick Park Secondary School
Island Ukuleles 'A' Music Society
The Mustard Seed
Help Full a Dream
Cystic Fibrosis BC & Yukon
Victoria Women in Need
Heart & Stroke Foundation
Community Options for Children & Families
Burnside Gorge Community Association
Hillside Centre's 'Receipts with Benefits' program gives local non-profit organizations a no-risk fundraising opportunity for 2020. This fundraising program was established in lieu of the annual 'Night of Lights' event/ fundraiser which, unfortunately, has had to be cancelled this year due to COVID-19.
Here's what you can do to support your favourite local non-profit organization:
Shop at any Hillside Centre retailer (including Thrifty Foods and Canadian Tire).
Bring your Hillside receipts dated November 27 – December 20, 2020 to Guest Services.
Let us know the name of the non-profit organization you would like to support. The total value of your receipts will be added to their total points. Receipts will be stamped and returned to you.
Fundraising Program Start Date: Friday, November 27, 2020
End Date: Sunday, December 20, 2020 (5:00 pm)
How do the non-profit organizations benefit?
All non-profit organizations wishing to participate must register with Hillside. Deadline: November 27 2020
Your receipt totals are converted into points. Example: receipts totaling $125.78 equals 126 points.
The 24 top point earners will share a total of $8,000. The disbursement of revenue is as follows: the non-profit organization that earns the most points receives $1,000; 2nd, 3rd & 4th place receive $750 each, etc. See chart below for the complete rewards breakdown. To receive a financial donation the non-profit organization must earn points.
Receipts with Benefits
REWARDS

Thank you for supporting your local community non-profit organizations!
Click on the non-profit organization listed above to see point total. The point totals will be updated once a day. Don't forget to encourage your friends and family to bring their Hillside Centre receipts to Guest Services!!!